Electromagnetically Induced Transparency

When a medium is driven by two laser beams at resonance with two atomic transitions,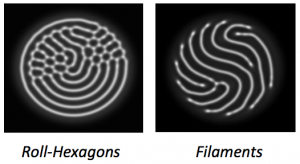 electromagnetically induced transparency takes place. In the vicinity of such resonance, transverse pattern formation has the richest variety to-date including spaghetti on a plate [1].
[1] M. Eslami, R. Kheradmand, D. McArthur and G.-L. Oppo, Phys. Rev. A 90, 023840 (2014).